AGM is a Chinese manufacturer of AEGs.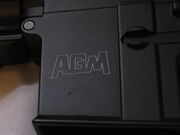 They have recently released some very good models, with sturdy externals and reliable internals. As with all Chinese makers, their gearboxes are over-greased and shimmed terribly.
AGM's AEGs include, but are not limited to the following:
Possible Closure
Edit
It was rumoured that AGM was shut down by Chinese LEOs(along with A&K and CYMA), and may be confirmed as it is also rumoured and not yet denied that AGM's factory boss was arrested. Then again, Ebaybanned posted news of AGM's PPSh41, thus bringing AGM back into the airsoft scene.